Send Inquiry
Reliable and pure range of Bio Fertilizer, Larvicides, Agriculture Bio Pesticides, Special Organic Pesticide, Potassium Humate, Plant Growth Promoter, Bio Insecticides, Crop Stimulator, Bio Fungicides, etc.
About Us

PROXIMA BIO-TECH PVT LTD. has become a leading player of the market by offering a wide range of Organic Fertilizers and agro chemical products. We stand as a major manufacturer, wholesaler, distributor, trader and supplier of bio fertilizer, agriculture bio Pesticides, organic pesticides, crop stimulator, plant growth promoter, Special Organic Pesticide, insecticides, amino acid, bio fungicides, larvicides, etc. Product range, offered by us, is respected by clients for easily absorbed features in plant systems, highly effective nature and longer shelf life. To meet the varied demands of the clients, we have been offering the array as solid spray dried powder or liquid solution. We formulate products from reliable chemical formulations that contain definite amount of nutrients at different ratio for making them effective for plants. Backed with sound product facilities located over 680 square feet area and experienced team of professionals, we have been serving the needs of the clients with the best.


"We ideally deal in bulk orders"

Most Popular Products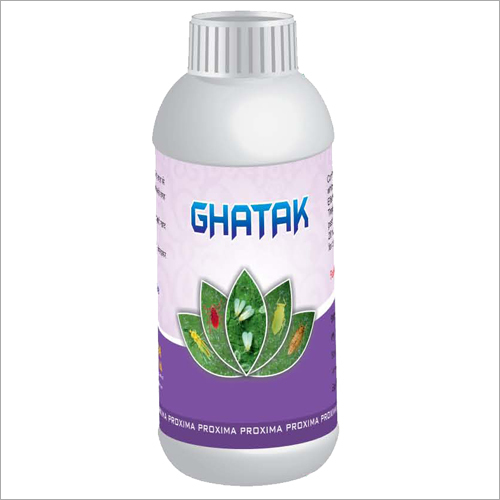 Ghatak (Organic Pesticide) is similarly as compelling as the concoction based pesticides. This announcement would be challenged by different nursery workers and it would contend that natural pesticides can't wipe out pests in the garden. That contention is really one reason why the utilization of natural pesticides is prescribed.

Our Products

The company specializes in the manufacturing and supplying a wide range of fertilizers for boosting growth and development of plants, crops, etc. Given below is a list of our complete products:


Agriculture Bio Pesticides
Bio Fertilizer
Bio Fungicides
Bio Insecticides
Bio Larvicides
Bio Pesticides
Bio Plant Protector

Botanical Insecticides
Organic Pesticides
Organic Soil Conditioner
Pesticides
Plant Growth Promoter
Plant Growth Stimulator
Potassium Humate

Clientele

Our honest, transparent and prolific business dealings coupled with innovative solutions enable us to win the trust of huge clientele. With competitive pricing policy, client centric approach, and adherence to the timely delivery schedules, we have been providing complete satisfaction to the clients. Some the leading brands of the market that we are associated with include:


Global Agriculture Solution, Pune, Maharashtra
V R Industries, Kolkata, West Bengal
Scorpion Biotech, Ahmadabad, Gujarat
Quality Assurance

We are a quality centric company working with dedication to serve the demands of clients in the best possible manner. Our strict team of quality analysts maintain a strict vigilance on the production processes, right from the procurement of raw material to the delivery of end product range. Our quality assurance system is carried out in the following ways:

Severe quality checking at every production stage
Raw material testing
Final product testing
To ensure the delivery of premium quality range, we conduct varied quality tests on the products for:

Purity
Composition
pH density
Safe usage
Shelf life